South Central India Network for Development Alternatives (SCINDeA) is a Network of is a network of 14 field based voluntary organisations who are geographically located in the South Central Region of the country and working in the Chitoor District of Andhra Pradesh, Kolar and Ramnagara Districts of Karnataka and 10 Districts in Tamilnadu. The Network has been involved in development initiatives for the past 20 years.
We believe, being together, strengthens and supports each other in the common goal of promoting sustainable development through people's participation. While empowering and enabling the most under privileged & socially excluded sections of our society to actively participate in their own development, we also believe in members working together in order to draw strength and support from one another, thus enabling the Network, to be transparent and accountable.
Legal Status
SCINDeA is registered as a non-profit organisation under the Tamilnadu Societies Registration Act of 1975. It is also registered with the Ministry of Home Affairs of the Government of India under the Foreign Contribution Regulation Act (FCRA) of 1976 and under 12 AA and 80-G of the Indian Income Tax Act of 1961.
Where we work
SCINDeA works in the three states – Tamilnadu, Andhra Pradesh & Karnataka covering a total of 15 districts, 46 blocks, 36 taluks, 206 panchayats, 491 villages and a population of 13,89,751. All the programs of SCINDeA are  through its Secretariat located at Yelagiri Hills, Vellore District in Tamilnadu, South India.
Whom we work with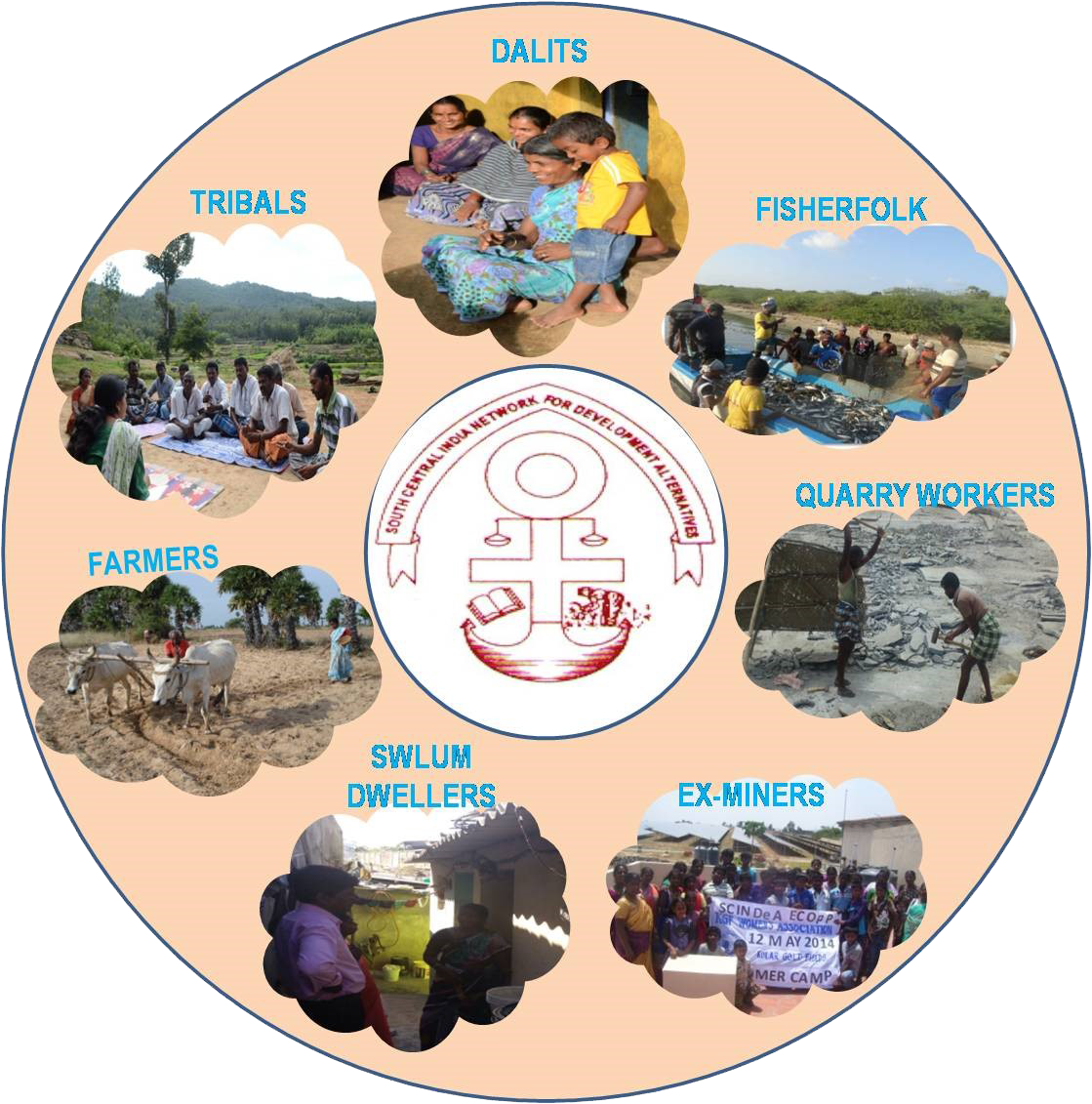 Field Area
| | |
| --- | --- |
| 1.BEST | –Pudukottai District, Tamilnadu |
| 2.CHDP | – Udumalpet, Tiruppur dist, Tamilnadu |
| 3.CRHSE | –Tirupattur, Vellore District |
| 4.CROSS | –Chittoor District, Andhra Pradesh |
| 5.CReNIEO-Pulicat |  –Tiruvalluvar District,  Tamilnadu |
| 6.KGFWA | –Kolar District, Karanataka |
| 7.QWDS | – Dindigul District, Tamilnadu |
| 8.READ | –Sivagangai District, Tamilnadu |
| 9.RWDS | –Tiruvannamalai District, Tamilnadu |
| 10.SACRED | – Ramnagara District, Karnataka |
| 11.CReNIEO-Yercaud | –Salem District, Tamilnadu |
| 12.UELCI-SWAP | –Chennai, Tamilnadu |
| 13.SUCHI | –Chittoor District, Andhra Pradesh |
| 14.VEEDU | –Chittoor District, Andhra Pradesh |
| 15.WORD | –Erode District, Tamilnadu |